Here we share some observations about and snapshots of the Passive House we had built in Oakland County, Michigan. All photographs were taken by us unless otherwise noted.
Our house is provided with fresh air by means of an energy recovery ventilator (ERV), in our case a Zehnder ComfoAir 350, an outstanding system on every count. These units work by running stale, room temperature outbound air through a cross-current heat exchanger to warm and humidify (in winter) or cool and dehumidify (in summer) inbound fresh air. Since the energy recovery isn't completely perfect, we condition our interior air when needed with a couple of Mitsubishi minisplits. The problem with this arrangement is that the air warmed or cooled by the minisplits tends not to diffuse uniformly throughout the house. Instead, it drifts toward the bathrooms and kitchen where the ERV's intake registers are located and away from the rooms where the fresh air from the ERV is supplied.
Zehnder makes a product that can help with this issue. It is the ComfoFond, a geothermal preconditioner system that works with the ComfoAir. Fresh air runs past thermal transfer tubing in the preconditioner before entering the ERV. This will effectively warm the inbound air in winter and cool and dehumidify the inbound air in summer. According to Zehnder's documentation, for our climate where the ground temperature is 55°F, air entering the preconditioner at 10°F will leave it at at 34°F. Air entering at 95°F will leave it at 77°F. This should take a burden off of the ERV and reduce the times when we need to use the minisplits.
The ground loop we installed is 400 feet of 1 inch diameter hePEX. At its deepest the tubing is below the water table where thermal conductivity is increased.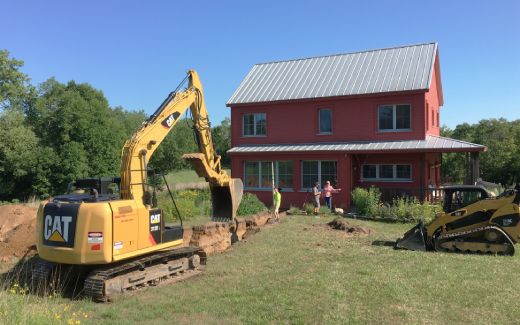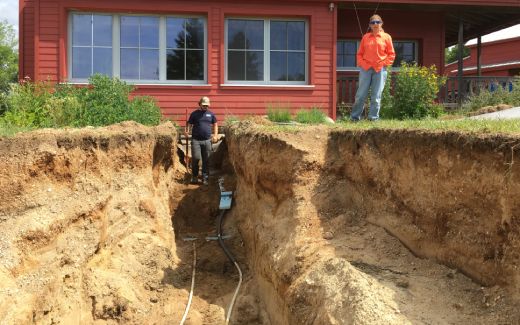 Insulating the inflow tube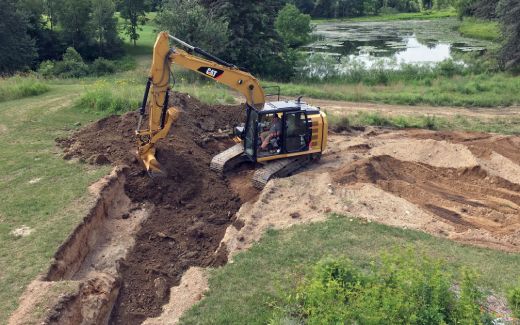 Posts
April 2012
May 2012
Framing delivered and barrier installed
Installing the first floor walls
Preparing for the second floor
Straight, Plumb, Level, Square and now Airtight
June 2012
Crawl space insulation and roof
First floor preparation, TJI base
First floor concrete and first envelope trusses
Excavating, trusses and crawlspace stairway
Fiberboard installation and wrap
July 2012
August 2012
September 2012
Wiring, insulation, porch roof
Mechanical system installation
October 2012
Wood floors and exterior painting
November 2012
Exterior concrete, kitchen cabinets
WKAR interview, floor finishing
Exterior concrete, crawlspace walls and floor
Compressors, exterior lights, tile
December 2012
Exemplary results in blower door test
January 2013
Upstairs floor finishing, water conditioner
February 2013
First Holly Passive House Conference
March 2013
December 2013
January 2014
February 2014
April 2014
May 2014
August 2015
February 2017
December 2017
May 2019
July 2020
Links of interest
Energy Wise Homes
Bostwick Excavating
Hanneman and Fineis Concrete Construction
RTM Heating & Cooling
Bach Electric
GoldStar Hardwood
Randy Lalone Well Drilling
Nu•Wool Premium Cellulose Insulation
Pro Trees Unlimited
Spartan Painting
Reynolds Water Conditioning, Co.
Mitsubishi Electric Cooling & Heating
Green Building Advisor article