Here we share some observations about and snapshots of the Passive House we had built in Oakland County, Michigan. All photographs were taken by us unless otherwise noted.
We've been comfortably situated in our home for three seasons, from the vernal equinox to almost the winter solstice.The house has performed admirably, meeting our expectations for energy consumption and comfort through hot spells in summer and some recent cold snaps. We were snug as bugs during a particularly violent storm in June. The architectural layout has been a joy — all main rooms have nice views and lots of light. The twelve inch exterior insulation wall provides a deep overhang that in summer keeps direct midday sunlight from entering the south facing windows, while in winter the low light bathes the rooms.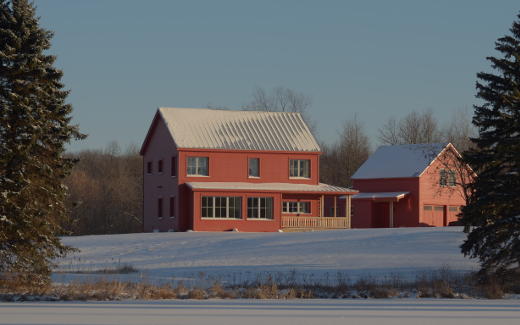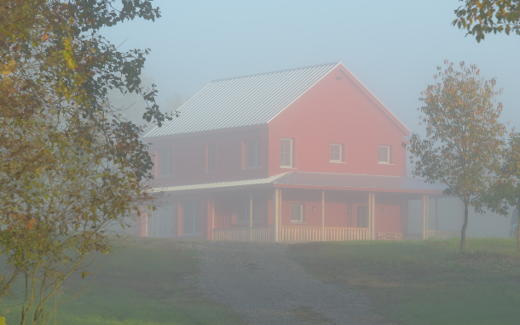 Morning view from driveway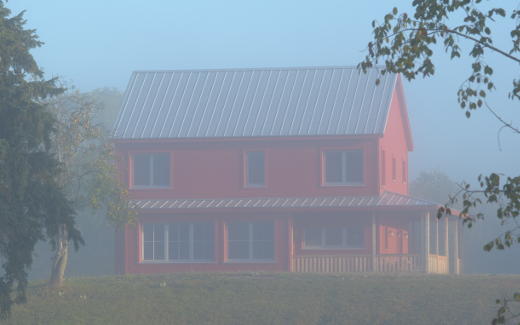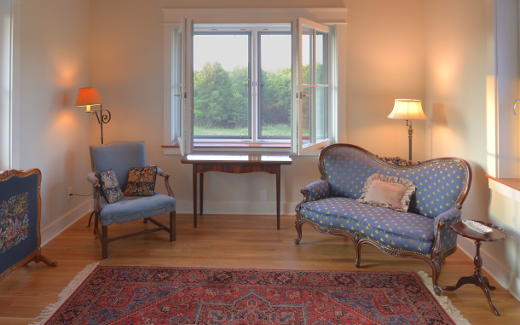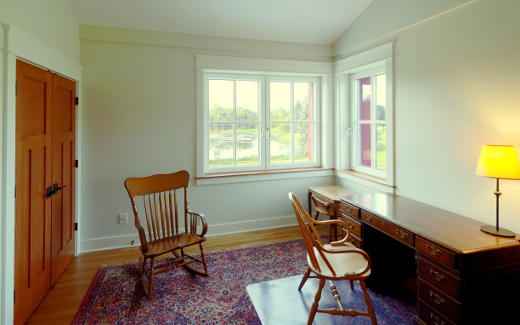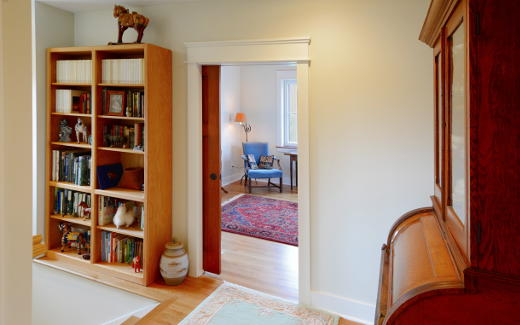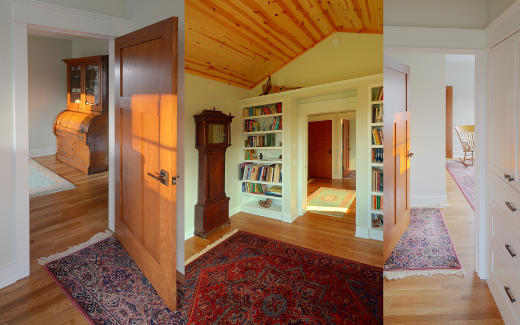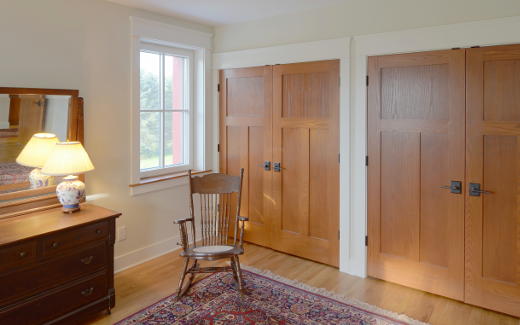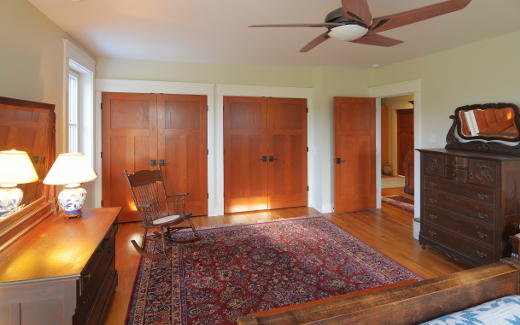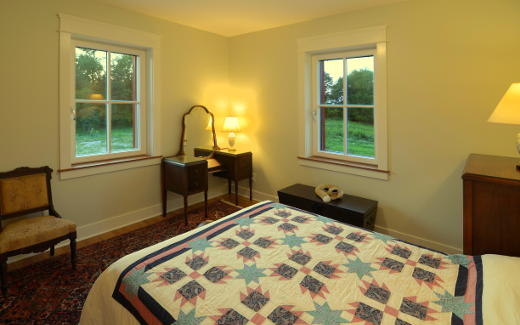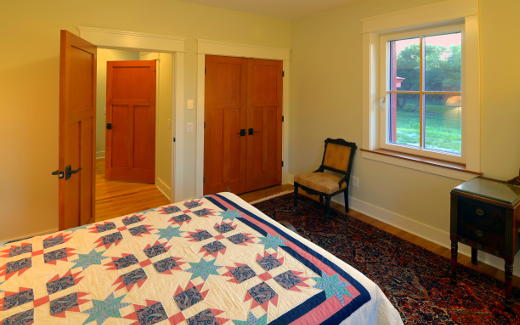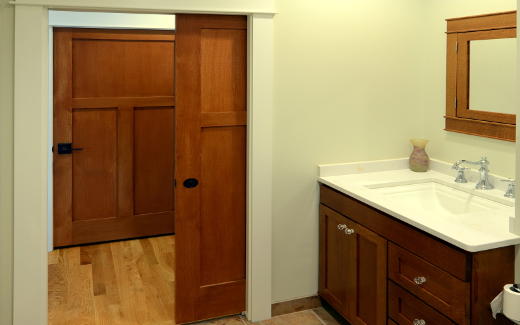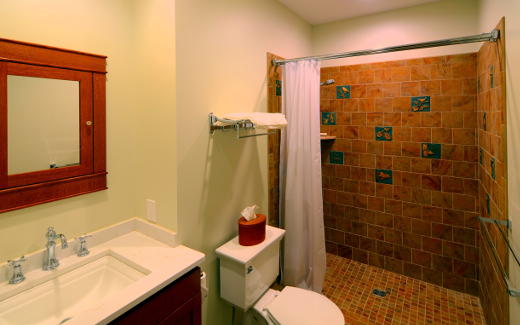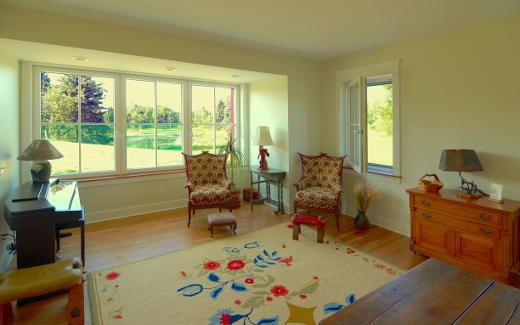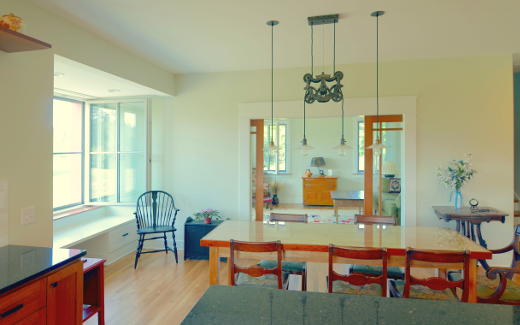 Dining area with carriage company workbench table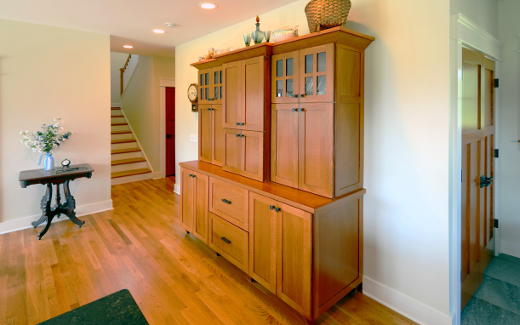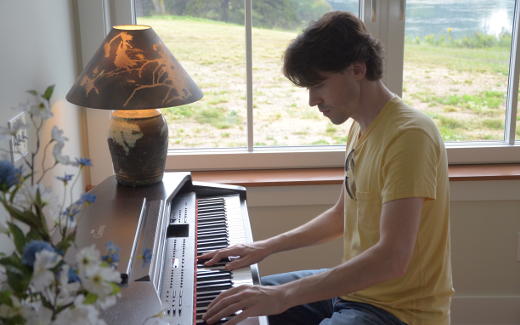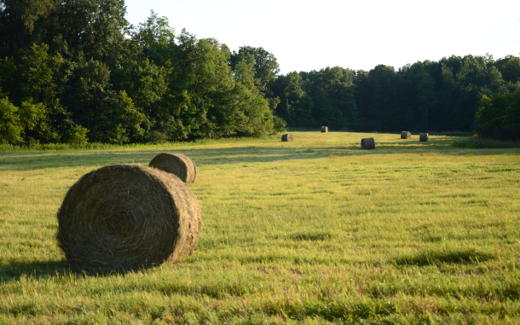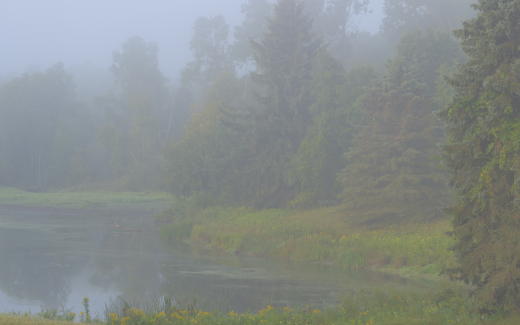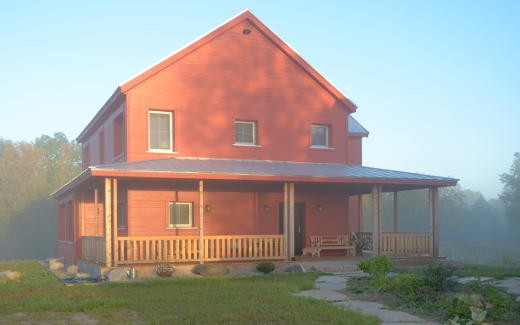 Brilla patrolling wrap around porch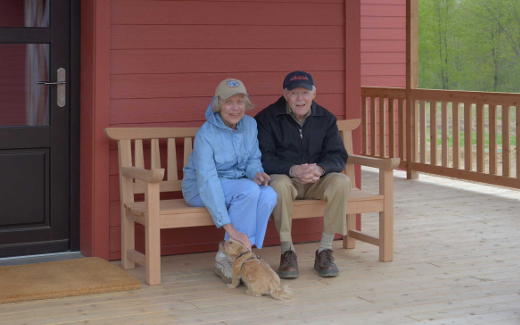 Nancy and Jerry Frost on bench Jerry made and gave to us
The house has the distinction of being Michigan's first Passive House by virtue of its certification by the Passive House Academy.
As expected, the two minisplits that provide cooling and heating are seldom used at the same time. In summer, we ran the upstairs unit in dehumidification mode and only a couple times ran the lower unit in the same mode. So far this heating season, we have only used the downstairs unit. In spring and autumn they are simply not used.
The energy recovery ventilator runs day and night, quietly refreshing the air at the rate of one house change every three hours. This system uses a cross-current heat exchanger and moisture element to maintain the interior temperature and humidity. Having an appropriate humidity level in wintertime is a real pleasure — no shivering when stepping out of the shower in winter!
We've had the pleasure of making new friends who have an interest in this kind of home and we look forward to following their progress with similar projects. Several weeks ago we enjoyed hosting an energy auditing class from the University of Michigan-Flint that came armed with a blower door apparatus and thermographic camera to study the house.
The combined kitchen and parlor space has proven to be a great place for gatherings. During the warmer months we use the wraparound porch for reading, meals and hanging up clothes to dry. In the colder months, we dry our clothes with a condensing dryer; a key benefit with an unvented system like this is that all of the energy used goes toward heating the house.
Posts
April 2012
May 2012
Framing delivered and barrier installed
Installing the first floor walls
Preparing for the second floor
Straight, Plumb, Level, Square and now Airtight
June 2012
Crawl space insulation and roof
First floor preparation, TJI base
First floor concrete and first envelope trusses
Excavating, trusses and crawlspace stairway
Fiberboard installation and wrap
July 2012
August 2012
September 2012
Wiring, insulation, porch roof
Mechanical system installation
October 2012
Wood floors and exterior painting
November 2012
Exterior concrete, kitchen cabinets
WKAR interview, floor finishing
Exterior concrete, crawlspace walls and floor
Compressors, exterior lights, tile
December 2012
Exemplary results in blower door test
January 2013
Upstairs floor finishing, water conditioner
February 2013
First Holly Passive House Conference
March 2013
December 2013
January 2014
February 2014
April 2014
May 2014
August 2015
February 2017
December 2017
May 2019
July 2020
Links of interest
Energy Wise Homes
Bostwick Excavating
Hanneman and Fineis Concrete Construction
RTM Heating & Cooling
Bach Electric
GoldStar Hardwood
Randy Lalone Well Drilling
Nu•Wool Premium Cellulose Insulation
Pro Trees Unlimited
Spartan Painting
Reynolds Water Conditioning, Co.
Mitsubishi Electric Cooling & Heating
Green Building Advisor article