Here we share some observations about and snapshots of the Passive House we had built in Oakland County, Michigan. All photographs were taken by us unless otherwise noted.
Over the course of two years our all-electric house has consumed on average one kilowatt. Since there is no consumption of gas or wood, this rate includes all heating, cooking, ventilation (almost always running in a passive house), lighting, refrigeration, computer use, etc. From spring through summer the consumption is about 12 to 15 kWh per day; in the winter on cold days and nights we can reach three times that amount. However, the energy consumption rate is only part of the story. This house is comfortable. At one whole house change of air every three hours the interior air is always fresh.
Our new solar panel array was installed by Michigan Solar Solutions on the eight-to-twelve pitch roof of our barn. During July, its first full month of operation, we collected over 1,000 kWh. Depending on how well it performs in winter, this rate should bring our farmstead close to net-zero over the course of a year. It is a grid-tied system; our electrical utility credits us for any excess energy we place in the grid.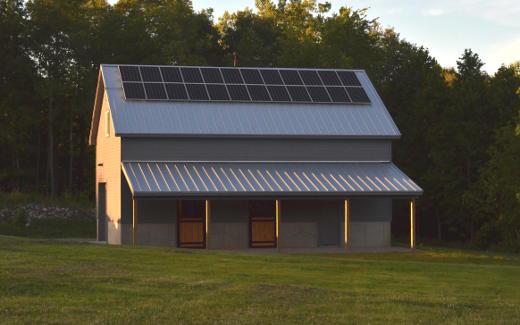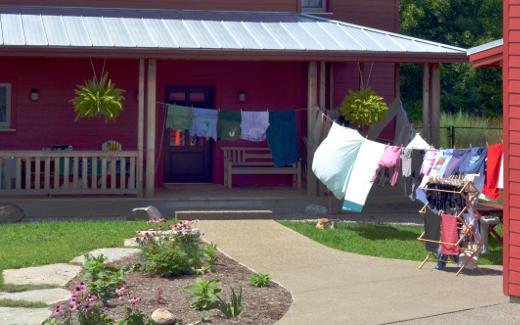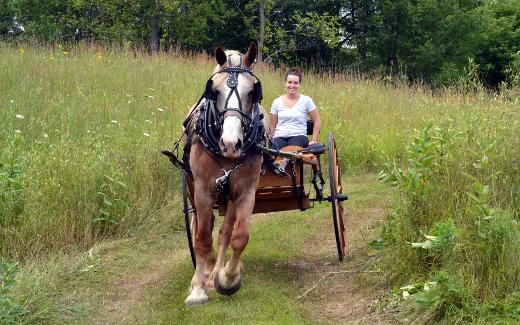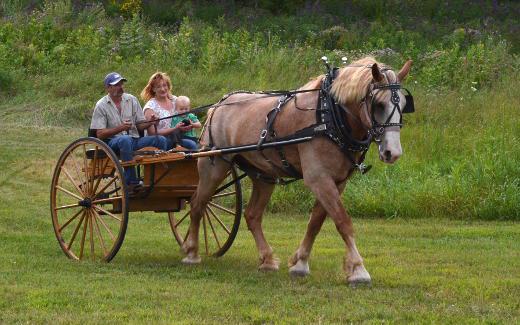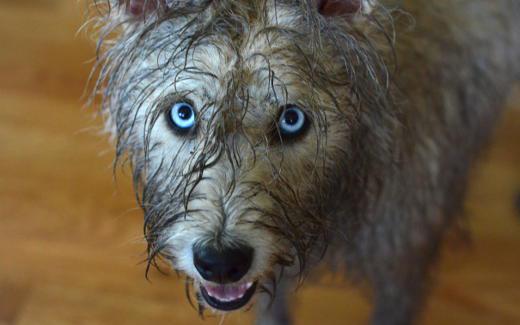 We enjoyed hosting the wedding of Faith and Ryan over the weekend. Our draft horse Jake had the honor of conveying Faith to the ceremony with much appreciated help from Chris and Scott, Jake's former owners.
Posts
April 2012
May 2012
Framing delivered and barrier installed
Installing the first floor walls
Preparing for the second floor
Straight, Plumb, Level, Square and now Airtight
June 2012
Crawl space insulation and roof
First floor preparation, TJI base
First floor concrete and first envelope trusses
Excavating, trusses and crawlspace stairway
Fiberboard installation and wrap
July 2012
August 2012
September 2012
Wiring, insulation, porch roof
Mechanical system installation
October 2012
Wood floors and exterior painting
November 2012
Exterior concrete, kitchen cabinets
WKAR interview, floor finishing
Exterior concrete, crawlspace walls and floor
Compressors, exterior lights, tile
December 2012
Exemplary results in blower door test
January 2013
Upstairs floor finishing, water conditioner
February 2013
First Holly Passive House Conference
March 2013
December 2013
January 2014
February 2014
April 2014
May 2014
August 2015
February 2017
December 2017
May 2019
July 2020
March 2023
Links of interest
Energy Wise Homes
Bostwick Excavating
Hanneman and Fineis Concrete Construction
RTM Heating & Cooling
Bach Electric
GoldStar Hardwood
Randy Lalone Well Drilling
Nu•Wool Premium Cellulose Insulation
Pro Trees Unlimited
Spartan Painting
Reynolds Water Conditioning, Co.
Mitsubishi Electric Cooling & Heating
Green Building Advisor article
Maura Jung and Matt O'Malia discuss house