Here we share some observations about and snapshots of the Passive House we had built in Oakland County, Michigan. All photographs were taken by us unless otherwise noted.
Matt Rosendaul of Great Lakes Home Performance and student Eric conducted tests to evaluate the building shell's air tightness, a key principle of Passive House design. The tests were performed with a computer controlled duct instrument, typically more sensitive than a blower door unit, in a window frame. The results, 0.39 ACH (air changes per hour) at a positive 50 pascal differential, and 0.42 ACH at a negative 50 pascal differential, fall below the Passive House standard of 0.6 ACH by a wide margin. Numbers this low are a testament to meticulous architectural detailing and diligent construction practices throughout.
A thermal imaging camera was used to scan the interior for thermal trouble spots. Interestingly, the warmth left by a hand on the inside surface of a triple pane window for ten seconds lingered a very long time, indicating the strong insulation properties of the installed glazing.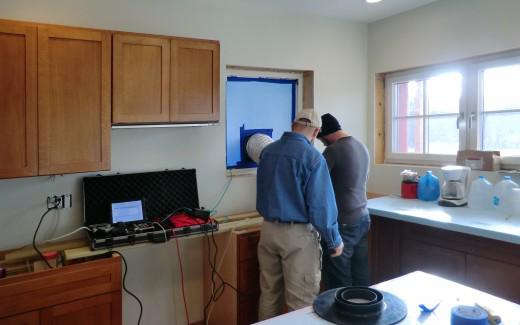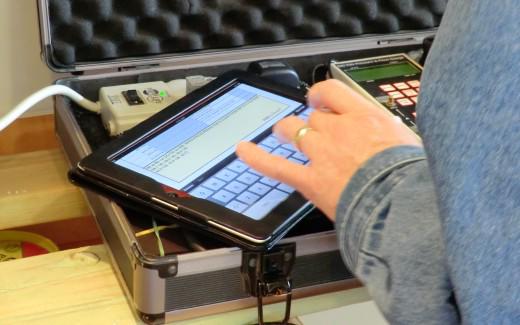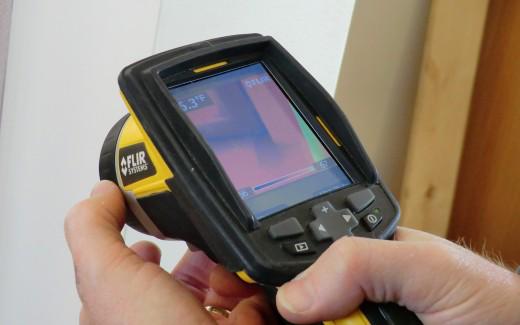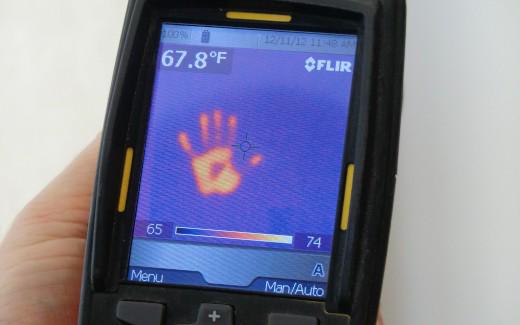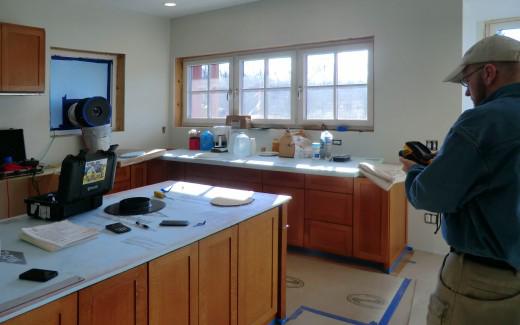 On another note, a new blog entry on the G•O Logic Homes website provides a good summary of the project as our house nears completion.
Posts
April 2012
May 2012
Framing delivered and barrier installed
Installing the first floor walls
Preparing for the second floor
Straight, Plumb, Level, Square and now Airtight
June 2012
Crawl space insulation and roof
First floor preparation, TJI base
First floor concrete and first envelope trusses
Excavating, trusses and crawlspace stairway
Fiberboard installation and wrap
July 2012
August 2012
September 2012
Wiring, insulation, porch roof
Mechanical system installation
October 2012
Wood floors and exterior painting
November 2012
Exterior concrete, kitchen cabinets
WKAR interview, floor finishing
Exterior concrete, crawlspace walls and floor
Compressors, exterior lights, tile
December 2012
Exemplary results in blower door test
January 2013
Upstairs floor finishing, water conditioner
February 2013
First Holly Passive House Conference
March 2013
December 2013
January 2014
February 2014
April 2014
May 2014
August 2015
February 2017
December 2017
May 2019
July 2020
March 2023
Links of interest
Energy Wise Homes
Bostwick Excavating
Hanneman and Fineis Concrete Construction
RTM Heating & Cooling
Bach Electric
GoldStar Hardwood
Randy Lalone Well Drilling
Nu•Wool Premium Cellulose Insulation
Pro Trees Unlimited
Spartan Painting
Reynolds Water Conditioning, Co.
Mitsubishi Electric Cooling & Heating
Green Building Advisor article
Maura Jung and Matt O'Malia discuss house